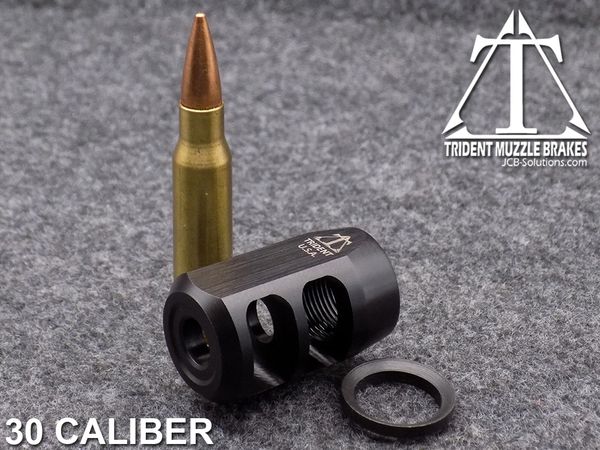 30 COMPACT
GENERAL SPECS:
Outside Diameter: 7/8" 
Length: 1.5"
Weight: 1.9 oz.
Finish: Black Nitride coating.

Standard 5/8" x 24  Thread.
For 30 caliber. 300 blackout thru 300 win mag.  this brake also works excellent with 7mm mag as well.

Material: shot peened A311 steel.
This is a very light weight, low profile and compact brake that is especially effective where weight is a concern.  The lighter weight greatly reduces the possibility of POI shift on lighter or longer barrels.
The bottom of the brake is pre-drilled with a 3/32" hole for pin and weld applications where required.

Check out the thread reference link at the top of the page if you are unsure of your thread pattern.

Please NOTE: New Bear Creek barrels, CVA and Bergara owners.
 

Be advised that recently, sometimes the barrel thread pitch you will receive on your rifle will not match the thread pitch listed on their sites and spec sheets.

 

I have now encountered two different thread pitches that differ from their listed specs.
This can be very frustrating. Please physically verify your thread pitch before ordering to avoid any undue complications or issues.
Thanks everybody!